#WhyShouldWeWorry?
Do we really need to wash produce? Yes. EWG found that close to 70 percent of conventional (not organic) fruits and vegetables had some level of pesticide residue. Even organic produce doesn't mean no pesticides, it means no chemical pesticides. That's why I wash everything. This talks about how pesticides are inside the produce too. Avoid eating close to the core and buy organic when you can (especially for things rated badly and/or that you eat often).
From Consumer Reports: "Pesticides can damage the brain and nervous system. And even low levels have been linked to cancer, reproductive issues, and other health problems. Plenty of research bears this out.
A 2019 study in JAMA Internal Medicine found that people with the highest levels of exposure to pyrethroid pesticides were three times as likely to die from cardiovascular disease during the 14-year study than those with less exposure. In a 2010 study in the journal Pediatrics, children with a greater exposure to organophosphate pesticides were more likely to be diagnosed with attention deficit hyperactivity disorder, known as ADHD. And a 2016 analysis in Scientific Reports found a link between pesticides and an increased risk of Alzheimer's disease.
Other evidence suggests that pesticides disrupt the endocrine system, which is made up of hormones, the glands that produce them, and the receptors in the body that respond to them. Experts think this may contribute to some cancers and other health problems. And because this system is delicate, even small amounts of endocrine disruptors could have outsized effects, says Michael Hansen, PhD, CR's senior scientist.
Yet the overall health impact of pesticides may be even greater because there are still many unanswered questions about the effects of long-term, low-dose exposure." Here's even more info based on the Consumer Reports investigation.
Note: This post is about pesticides on produce, not lead, which is another concern but does not correlate with pesticides. Organic food does not necessarily have less heavy metals like lead.
Which Vegetables and Fruits Have the Most Pesticides?
It's always helpful to look at the EWG Clean 15/dirty dozen lists (or app), updated yearly. They are so helpful for deciding what to prioritize to buy organic. EWG says something about how they factor in "normal washing and peeling." EWG's research is based on its own private analysis of the U.S. Department of Agriculture's pesticide testing.
Here is some new research published in October 2020 Consumer Reports. This list a factors in toxicity of the pesticides, not just amount of residue as the dirty dozen lists do. The color coded rating scale is in terms of how many servings can be eaten (But the #precautionaryprinciple would encourage minimizing as much as possible). The first column is US grown; second is imports. Some surprises were: Organic grapes, peaches, broccoli, kale, snap peas, spinach (US), cherries (frozen imported), mangos, and potatoes still have more pesticides than you'd think. For broccoli, it appears that organic has even more than non organic!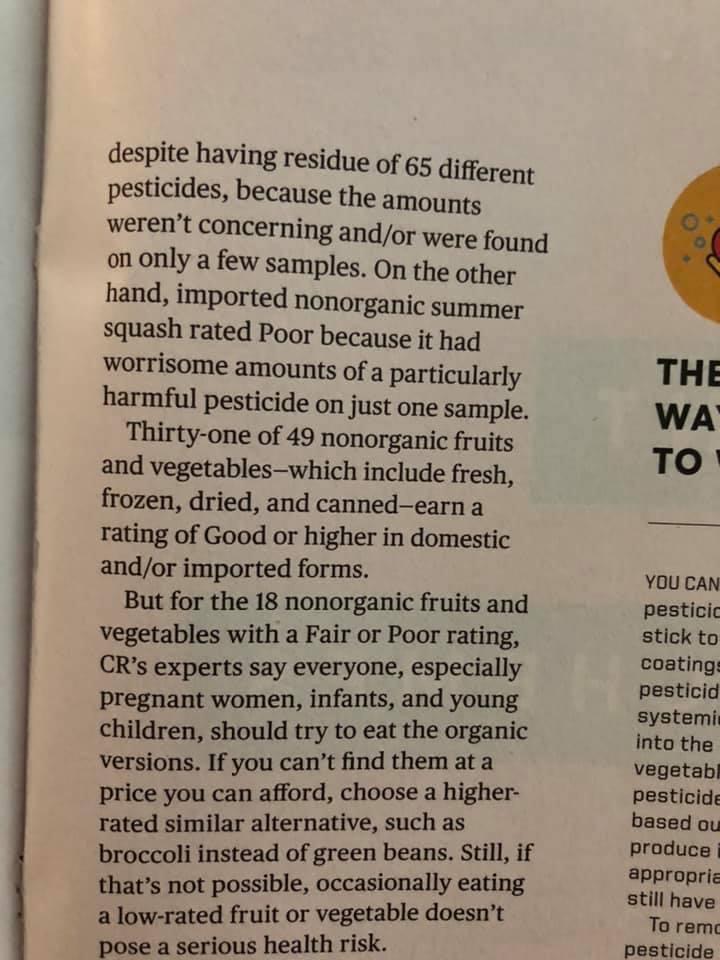 First of all, what not to do: Produce Washes don't work. It is also not advisable to wash produce with soap because it can leave a residue that can make you feel sick. This method has been shown to remove traces of Covid, so you really want to use a cleanser, I'd recommend Branch Basics (see my cleaning post for more info.). *Full disclosure is this Branch Basics link gets you $10, and also grants me $10 off my future purchases. I have no special relationship or affiliation with this company; this is a standard referral link available to all customers. Very few of my blogs have this kind of link, which are clearly marked. I hope this kind of small benefit helps me to just break even on the cost I pay for the site.
How to Remove Pesticides From the Outside of Produce
What about just rinsing? According to Dr. Annie (see my cleaning post), For bacteria, rinsing is pretty good. I'm super skeptical, but EWG says that rinsing produce under tap water can reduce pesticide levels before consumption. But research conducted by researchers at the University of Massachusetts shows that soaking produce in a baking soda and water solution does an even better job at removing pesticides. Most of the rest of the links are about using baking soda or vinegar.
Soak for 15 minutes with either one. Do NOT mix vinegar and baking soda.
Finally found a specific ratio for baking soda. 1 tablespoon baking soda mixed with 1.5 L, or 6.3 cups of water. I doubt it has to be super specific though.
This says 1 ounce of baking soda in 100 ounces water.
More baking soda directions (update: this link appears to be broken).
This one gives more detailed methods of using baking soda. For vinegar it says "full strength."
This one compares various methods including vinegar (says to spray) and baking soda. It recommended Vinegar: The Food Research review found that washing tomatoes in a vinegar solution significantly reduced the residues of six different pesticides, some by as much as 94 percent. And in 2007, a Cook's Illustrated test found that vinegar reduced 98 percent of the bacteria on apples and pears. Cheap, nontoxic — what's not to like? Try filling a spray bottle (#moneysavingtip and an eco option is to re-use a vinegar bottle -preferably glass- and add a spray top) with one part vinegar to three parts water (or straight, like the other link said) and keep it next to the sink. (Update: this link appears to be broken).
This says things like blanching can help.
For freshness, it's advised to wash just before cooking or eating (or don't wash and put back in fridge).
Do you need baking soda that is labeled natural or organic? Probably not. But check out this comparison. Amazon affiliates link to what I use: https://amzn.to/35b0D52
Where to Buy Produce
See if there are any local organic growers near you, and ask questions about their growing practices and possibly lead in the soil. If you don't have enough local options, there are several companies that you can get organic Produce delivered through the mail! Here is the one I use (in addition to a local farm): Misfits. *Full disclosure: this code gets you 25% off your first subscription box, and I receive 25% off my next subscription box. Use code COOKWME-NB1QGK. I have no special relationship or affiliation with this company; this is a standard referral program available to all customers. So far Misfits is working great for me and you can customize what comes in the boxes as well as add additional items.
To check out new and additional posts, please visit and "like" my Facebook page. Thanks!
***Thank you for visiting Clean Green Toxicant Free! I started this site simply because I want to help people and share information. I dig deep and seek the most truly non-toxic products, without bias. I am not paid to write anything and I don't sell anything. In 2022 I became an Amazon Associate, which does NOT bias my recommendations. I may earn small dividends from purchases made after clicking my clearly labeled amazon affiliate links (even if you don't buy those specific items), which helps cover the costs I pay to maintain this site, at no cost to you. More info is on the About This Website page.***