The main point of this post is to encourage you to think outside the box a bit. You don't HAVE to give candy, or baskets at all. You don't have to fill Easter eggs with candy. You CAN still have eggs, unconventional Easter baskets, creative activities and crafts, and healthy treats.
Easter Baskets Without Sugar
Do you fill Easter 🐣 baskets ? I don't, but fear not, I have suggestions if you do.
My kids have baskets they use to do egg hunts but so far I haven't put anything in the basket to begin with. I figure I'll wait until they are old enough to hear elsewhere about baskets filled with goodies or toys, before I put anything in there.
This year, I let my daughter pick out a few small toys and a board game instead of Easter candy (this was the first year she complained about the erasers in her eggs and asked for candy). But then I realized she still likes surprises, so next year I'll pick out everything in advance and hide them along with the eggs.
Also, I'm a rare one it seems, but I actually hardly do gifts in general at young ages. I don't think it's necessary to buy gifts for every holiday and I avoid conspicuous consumerism. Babies especially have no idea what is going on. And they certainly don't need or expect candy. As the kids get older and their expectations increase, I'm willing to do a little more as far as little toys, especially if it keeps them happy without candy.
If you looking for natural, non-toxic Easter ideas, this list from another blogger has over 60 ideas that are all free of candy.
I encourage you to think creatively. When I was a kid, probably the most memorable Easter basket my mom made for me was filled with school supplies! Not just the regular school supplies, but things like an old-school label maker. I now can see how some kids might groan, but I loved it!
Less Toxic Hard Boiled Eggs and Dyes
So far I haven't tried to dye eggs at home with my kids, so I haven't done a deep dive into what pre-made egg dye kit I think is least toxic. If you want to make your own dyes, here is one link about how. To be most non-toxic, use organic, non-canned ingredients.
Tips for cooking hard (or soft) boiled eggs: One is to use pasture raised eggs, preferably locally raised. Here is why (link to a post I made about it).
Another tip is to cook them using the Instant Pot. It takes the guesswork out and the shells come off easily.
Egg Hunts Without Sugar
I do egg hunts with no candy, and fill the eggs with non-food items such as: Stickers, small erasers, coins, love notes, riddles, small Lego sets, or wooden peg people (I have these; Amazon Associates link https://amzn.to/3EkcuLMOther. Other ideas are things like rings or necklaces, animal beads, Finger puppets, whistles, Block crayons, etc. Just be prudent about choking hazards for very young kids.
Here is an idea for kids who can read: Wooden tokens (Etsy link) that can be redeemed for various things. Or make your own with blank ones (amazon associates link https://amzn.to/37WqbnUs).
Putting puzzle pieces in the eggs and then making the puzzle is another fun idea.
You can also do a scavenger hunt type of thing.
If you use plastic or wooden eggs (Amazon Associates link https://amzn.to/3JOF7ll), save to reuse next year.
Better Edible Treats
1. Make my healthy no-sweetener pancakes, in bunny shapes if desired. Here is a link to my recipe.
2. Bunny cinnamon rolls. Annie's makes a "better" choice for pre made cinnamon roll dough (the kind in a cardboard can). Or, I'm sure healthier homemade recipes can be found.
3. Bunny veggie tray with bread bowl. I don't eat regular gluten bread, but I do occasionally use Happy Campers Gluten Free Bread Mix.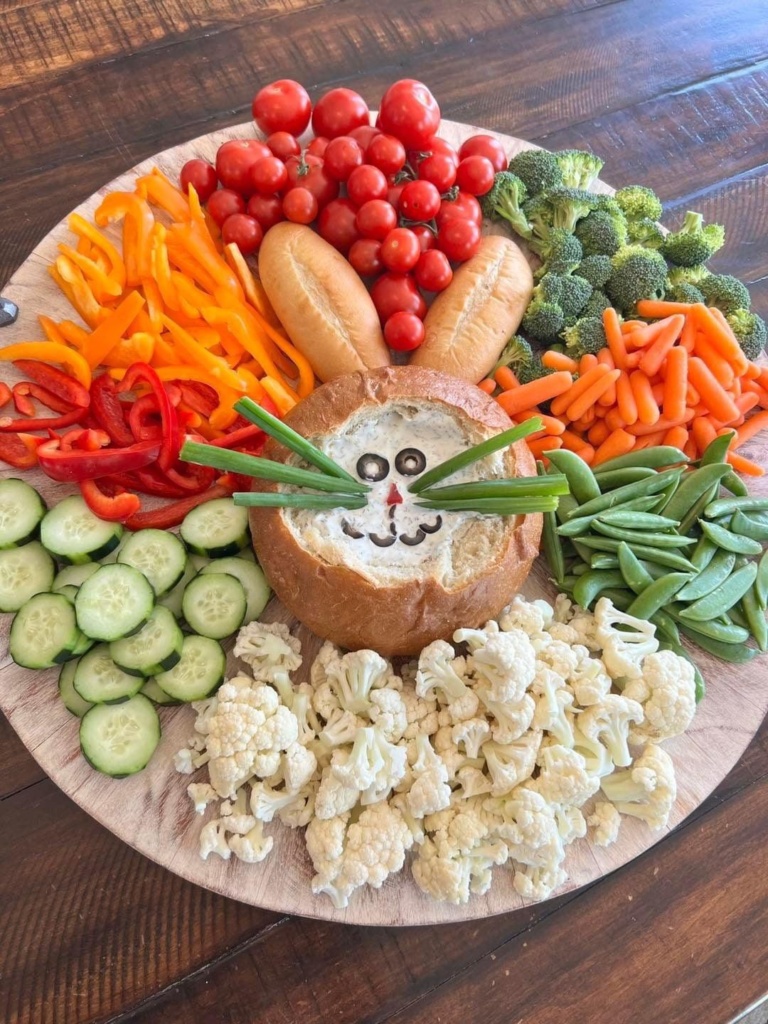 4. A "better" (but still not ideal IMO) choice for bunny-shaped snacks are Annie's brand gummies or crackers.
5. If you really want to give the conventional sugary treats, there are "better" replacements, such as from this list from another blogger or those shown in the image below from Food Babe.
6. For more snacks and treats, I have a much more thorough blog about options here.
Other Easter Activities
-Painting wooden eggs or wooden decorations (amazon associates link for egg shapes https://amzn.to/391AQ1n and bunny shapes https://amzn.to/3vvurDc).
-Making various Easter crafts.
-Plant seeds.
-For volunteer opportunities, I happen to know that animal shelters often need extra volunteers on holidays because their staff is out of town. I used to do this before I had kids.
What else can you think of?
Never Give Live Animals as Gifts
Easter animals warning. Animals do not make good surprise gifts, especially for children! Shelters see huge increases in surrenders of rabbits after Easter from people who realized they couldn't take care of them. Ducklings die in the mail or soon after receiving. Unless you are thoroughly invested in keeping a pet, give toy or edible bunnies and ducks instead!! 🐥🐰💝
To check out new and additional posts, please visit and "like" my Facebook page. Thanks!
***Thank you for visiting Clean Green Toxicant Free! I started this site simply because I want to help people and share information. I dig deep and seek the most truly non-toxic products, without bias. I am not paid to write anything and I don't sell anything. In 2022 I became an Amazon Associate, which does NOT bias my recommendations. I may earn small dividends from purchases made after clicking my clearly labeled amazon affiliate links (even if you don't buy those specific items), which helps cover the costs I pay to maintain this site, at no cost to you. More info is on the About This Website page.***